Good morning, everybody! Today is going to be warm and wet outside as we gear up for our next weather maker.
A strong cold front is approaching our area. Southerly winds ahead of the front will allow temperatures to make it into the upper 60's. Unfortunately, scattered showers and drizzly rain will develop, making for a pretty gross day.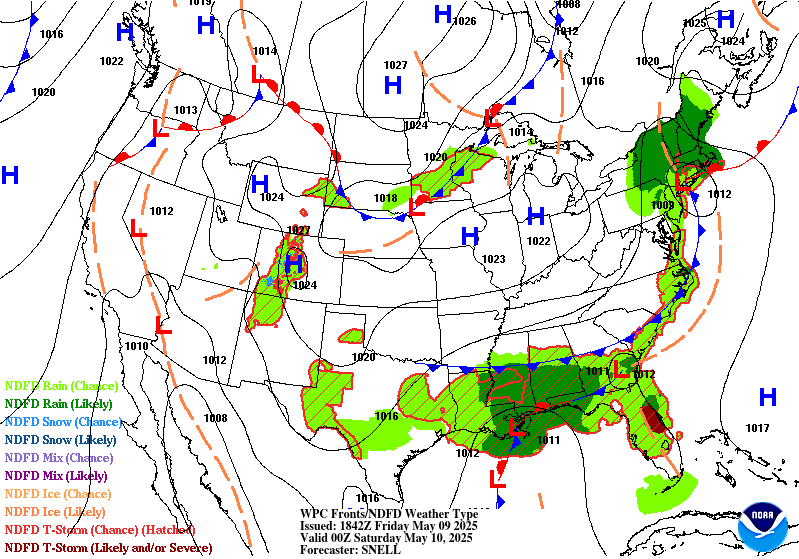 WPC Short Range Forecast valid today through Saturday
Temperatures tonight will remain very mild as the front approaches the region during the overnight hours. The cold front looks to move through our area overnight tonight/really early Friday morning.
*Winter Storm Watch issued 6 AM Friday through 6 AM Saturday*
The National Weather Service in Louisville has issued a Winter Storm Watch for all of central Kentucky. The NWS is calling for 1-4" of snow accumulations, with Bowling Green looking at closer to 2-3", and 0.25" of ice.
Contributor Jacob Wilkins did a fantastic job of detailing this event in his afternoon post yesterday. For the sake of time and space, I won't reiterate everything he said, so make sure to check it out here or in the link above.
With each model run, confidence is growing higher that we will experience winter weather tomorrow. When the cold front moves through the area early Friday morning, there will be a quick changeover from rain -> freezing rain -> wintry mix -> snow.
Temperatures tomorrow will remain in the 30's with highs near 35 degrees; so, just hovering around the freezing mark. Below is the NAM simulated radar for this event, occurring 12am Friday to 9am Saturday.
NAM Simulated Radar w/ Precip Type, valid 12am Friday to 9am Saturday, pivotalweather.com
The commute pretty much all day Friday will be negatively impacted. The rain that we get today and overnight will likely wash away quite a bit of the salt and brine, leaving road conditions a mess when this wintry precipitation occurs.
NWS Louisville
Travel on Friday will become difficult quickly, so please stay aware of the road conditions surrounding you. Once the precipitation changes over from rain to freezing rain/wintry mix/snow, travel conditions on the road will deteriorate rapidly. There are still some uncertainties with this system, like what track it will ultimately take. Just a small change can alter the forecast, so stay updated!
Giphy.com
Once the precipitation ends Saturday morning, Canadian high pressure will settle into the region, keeping us super cold and dry. Honestly, let's just get through Friday first, then we can talk about Saturday!
That's it for me! Have a great end to the workweek. Follow @wxornotBG on Twitter and like Landon Hampton on Facebook for the latest weather information. Also, Landon posts daily weather vlogs on Facebook, so be sure to check those out! Have a fantastic day!