Good Morning! I hope everyone enjoyed the sunshine yesterday because unfortunately the beginning of this week is looking to bring rain, rain, and oh wait…more rain! April is notorious for its shower season. So what exactly does that mean for us? Well, batting first is heavy rain showers with the potential for severe weather in the warm up box […]
Monday
Rain starting us off first! Today, expect heavy rain showers throughout the day with isolated thunderstorms. High near 67, and a Low near 59. There is Potential for strong wind gusts up to 25mph. We have a cold front trying to push its way slowly onto the field causing a new set up for our second batter Tuesday.
Precipitation across all portions of WABBLES Monday afternoon (Pivotal Weather)
Tuesday
Up next, is chance for showers. Chance for showers is looking at about a 40% average for the day. With a shortwave ridge overhead of us, most of the day should be quite. Showers and thunderstorms are most likely to occur mainly before 1pm, then remain cloudy with a high near 75.
Total anticipated Precipitation through Tuesday (Pivotal Weather)
Wednesday
Our number three batter, our main competitor this week will be possible strong to severe thunderstorms. With a line of strong to severe storms coming into play late in the day, we will be keeping a close eye on this batter as the week progresses. The timing for strong to severe thunderstorms is Wednesday night.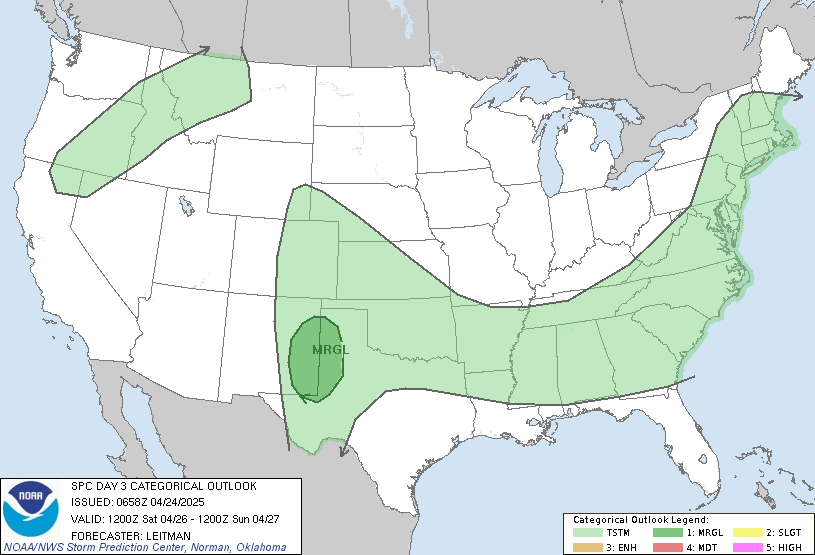 SPC Severe Weather Outlook
End of the week
Mild weather seems to be in the number four spot of the roster. We will see mild weather take the batters box Thursday, bringing more sunshine and a high near 66. Friday, rain might make its way back up to bat but the chances of that is around 20 percent with a high near 68 and a low around 46.
Medium range forecast for Thursday (SPC)
As always, stay updated for changing weather conditions through our social media pages! Have a great week people of WABBLES!