Happy Friday, WABBLES! Thanks for joining us as we close out the work week! Its been dry for the last several days and and that trend is going to continue for today at least. Heading into the weekend we have some storms chances to deal with along with those hazy skies.
Wildfires Raging Out West
The wildfires out west are causing big problems not just there but across the country. Smoke has been moving downwind consistently over the same locations for the last couple of weeks. The large high pressure ridge out west has been distributing this smoke across the northern Plains and Upper-Midwest. This has eventually turned southward into the Ohio Valley.
Thick smoke will be overhead again today as another large plume passes through the region. The good news is that by tomorrow morning we will start to see some of the thickest smoke exit the area and move eastward. Here is a graphic showing that below.
The weekend should be better, but we will be watching another plume behind this one into early next week!
Today
Not much to talk about for today as it will be same old, same old. Temperature and humidity are expected to stay rather comfortable with highs in the upper 80s and dewpoints still in the 60s.
Hazy skies will be around under mostly sunny skies today. The good news is that storm chances will hold off through most of the weekend.
Weekend Outlook
One thing we will notice into the weekend is the increase in humidity. We have been in a moisture lull for the last few days and it has been rather nice. Heading into Saturday we will see dewpoints surge back into the low-mid 70s across the region.
We should stay dry through Saturday and even most of Sunday. Our best rain chances will likely hold off until late Sunday and into Monday when the front passes through the area. A few pop-ups cannot be ruled out Sunday afternoon though.
Showers and thunderstorms will become possible Sunday evening. A few heavy downpours and gusty winds will be the main threats as the severe threat should remain low.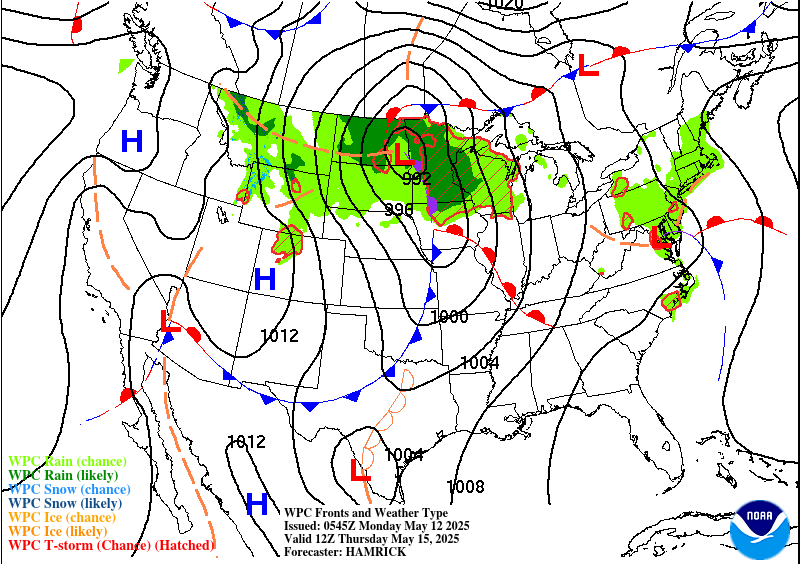 Rain chances will begin to exit the area come Monday afternoon.
Building Heat into Late Next Week
The last 7 days have been the driest stretch of weather we have seen in awhile. There has even been a rainfall minimum cross central and southern Kentucky. Take a look at the map below.
The bad news is that the next 7 days look rather dry too. Our best chance for rain through late next week will come Sunday into Monday. If you get missed out by this coming activity then it may be awhile before we have rain chances move in.
Now there is a caveat. As this ridge builds in late next week, we will be in a northwesterly flow. This can sometimes allow MCS storm complexes to dive southeastward into the area. Because it looks like this ridge will waste no time pushing eastward, the MCS potential looks unlikely.
Diurnal storms may be possible for the middle next week in the forms of 20-30% chances. But typical summer time heat and mostly dry weather looks to take over. Temperatures well into the 90s by months end will be possible, but the good news is that dewpoints may stay relatively low so heat indexes should stay in check.
That will do it for today folks! Thanks for reading today and we hope you have an awesome weekend! Follow us on all our social media pages @wxornotbg!