Good Saturday Morning people of WABBLES! I hope you are all ready for a great weekend with more rain chances. Not to worry though, some relief from the rain is in fact coming!
Today
Not much change in the forecast from what has been happening the past few days. We have that almost stationary cold front that has been one heck of a weather maker for the area. Although, the bulk of the weather has remained rather north of the Ohio River where the stationary has been sitting.
That front will keep manufacturing scattered rain and storm chances, I know you are all surprised by rain in the forecast. You can look at future Radar and see just very randomly scattered showers and storms, just like everything has looked the past few days.
There remains no severe weather risk for these showers, as most of them will only be of the "garden variety" thunderstorms.
Also keeping up with what seems like a continuous pattern, highs will be rather warm in the mid 80s. I would not be shocked to see the feels like temps to be very close to, if not over 90 degrees.
Sunday
Sunday will keep the rain chances in the forecast but in a bit smaller capacity. This will be thanks, in part, to that very slow boundary that will finally be passing over us and now being to the south of WABBLES.
With that position of the front/boundary, the bulk of the rain and storm chances will remain south of us in Tennessee. However, more isolated showers are still on the table throughout WABBLES.
Although the boundary will be passing over us, there will be little to no serious changes to the high temps. I would expect temps to max out Sunday in the mid 80s again.
Next Week
Moving into the early next week time frame, we finally will get to see high pressure begin to build in from the north. This high pressure will give us a break from the rain at long last.
Before we can get to that, however, we will run into one more day with rain chances on Monday.
Moving into Tuesday, we get to see that high pressure move in and the rain chances back off.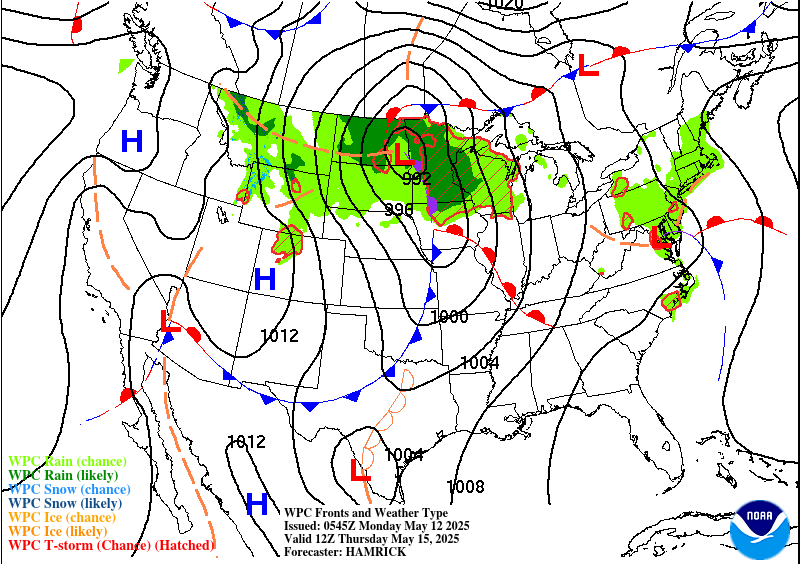 That will be all for today folks! I hope all of you can enjoy the weekend and be safe about it. I encourage you all to visit us on our social media pages for even further updates.