Good morning, everyone! I'm sure you've caught on to the weather pattern this week if you've been up to date with our previous forecasts. So, it should come as no surprise that humidity drives scattered thunderstorms today.
Breaking Down Today
Waking up, you'll notice that conditions are already mostly cloudy. This will prevail all day giving way to a number of scattered showers and storms. These will be driven by dew point values right near 73 degrees making for quite muggy conditions coming up from the western side of the Gulf Coast.
Progressing into the afternoon, we have the potential to see some stronger, possibly severe storms. The National Weather Service has issued a hazardous outlook saying that thunderstorms could produce cloud-to-ground lightning, gusty winds, and brief heavy downpours. With this being said, if you see thunder or lightning, be sure to head for shelter!
Thunderstorms could produce brief heavy rainfall and cloud to ground
lightning. Gusty winds will be possible with a few stronger
storms.
(weather.gov)
Dreary Wednesday
Unfortunately, the active pattern continues into Wednesday with scattered rain showers moving through the region all day long. On the bright side, I think we will see a bit more sunshine than we have the past two days in between rain events. All in all, expect a high in the low 80s for that to feel quite heavy as the humidity from today sticks around.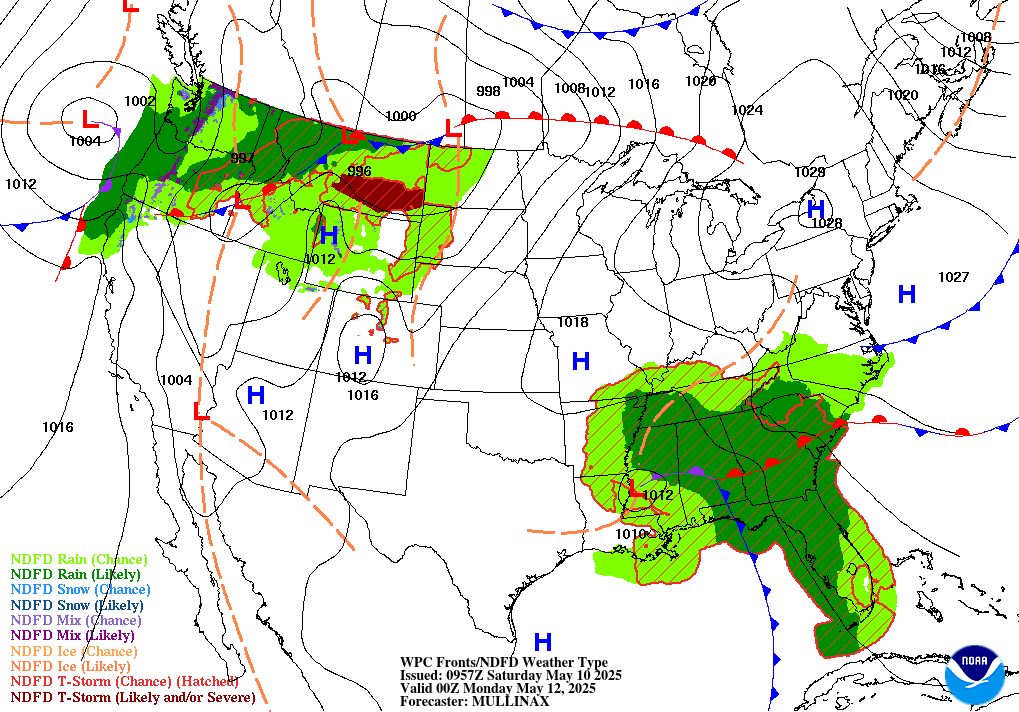 Overnight, shower and storm chances remain under mostly cloudy conditions. The low will be around 70 degrees.
Storm Chances the Rest of the Week
Sadly enough, we have storm chances in the forecast everyday the remainder of this week. However, I'm thinking these will these will be just as they say they are, "chances". I think most mornings will stay relatively dry, and then the scattered summer-time storms roll-in for the afternoon. With that being said, some communities could see little to no rain one day while another sees nearly an inch of rain. Always look at the silver lining!
Well that's all for today, folks. Thanks for reading and be sure to follow us on our social media platforms, @wxornotBG. Have a great day!