Good Thursday Morning Everyone! I hope you have enjoyed the crazy week of weather we've had but are excited to see the snow finally ending. With that being said, let's take a look at what to expect the next few days!
Today
There are some snow showers still ongoing around the area with the heaviest snow being just to the northwest of WABBLES. The Winter Storm Warning issued yesterday is set to expire at 6 pm tonight. This is when you can expect the bulk of the snow to be out of the area leaving behind light snow showers and possibly some freezing drizzle.
Everyone in WABBLES should allow extra time all day to get to where they need to go. If you don't have to go out, it'll be best to stay at home and stay warm!
Temps are currently in the mid 20s around the area, and I wouldn't expect those to get much higher or above freezing today. Highs will only be in the 29-30 degree range with wind making it feel colder at times.
Friday
Friday will be a quieter day overall, but still quite cold with highs again remaining in the upper 20s. You can also expect to see some clouds remaining for most of the day with some periods of sun mixing in. During those times with clouds, it is possible we see some light snow showers.
Weekend
High Pressure makes its way over Kentucky on Saturday and will help keep the day free of any weather makers.
This high pressure should help the WABBLES area clear out from clouds a bit Saturday afternoon. As far as temperatures go, we should remain in the lower 30s for a high.
Sunday will be warmer with highs finally reaching the lower to mid 40s again. This should really help in the melting of the snow from the past couple storms.
Sunday night will bring the chance for another weather system, this time however, it will be an all rain event. The Sunday Morning surface front chart from the WPC shows the front that will produce the rain just off to the west.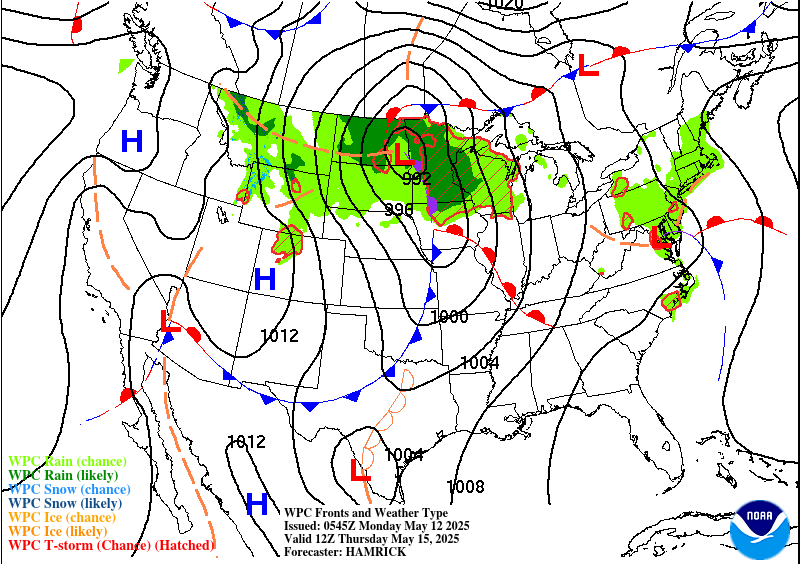 That front will move westward and start to impact the area starting Sunday evening and into the overnight.
That is all for today folks! I hope everyone is safe out there today and enjoys the snow. Go spend some time with the family or go sledding! I encourage you all to visit us on our social media on Facebook, Instagram, & Twitter @wxornotBG.