Happy Thursday, Kentucky! I hope you are having great week so far especially with the quiet weather present. The weather becomes more active as we move forward in time. A system moving in tonight rain and some snow.
Mostly Dry Today
We are currently watching a storm system that is off to our southwest this morning. The center of low pressure is going to slowly track to our south as the day progresses. Although, precipitation is going to continue to develop on its northern side as it moves eastward.
Temperatures this morning are sitting just below freezing across most of the Commonwealth. Overcast skies will stick around all day so temperatures will not move much. We are expecting to reach a high of 41 degrees this afternoon.
The storm system passing us will ramp up the winds a bit as we move into later this afternoon. Sustained winds of 10-15mph will be likely with a few gust close to 20mph possible.
Mix of Rain and Snow Tonight
Our eyes now turn to the current situation just off to our west. Rain and snow are currently impacting parts of Missouri and Arkansas. Winter weather alerts have been posted for some locations near the AR/MO state line. We are not expecting any alerts to posted for our area as of right now.
Rain and snow will continue to fall over the Ozark mountains as we continue through today. Rain/Snow chances will begin to increase across our area later today and into the overnight hours. Here is a look at future radar.
As you may be able to tell, dry air is going to really limit precipitation across Kentucky. We will see scattered rain and snow showers but amounts will remain limited. A dusting on the grass and elevated surfaces is possible with the snow, but roads will remain wet. Here is the latest from the National Weather Service.
Temperatures overnight will likely drop below freezing. Although, with warm pavement temperatures, we are not expecting any issues at this time.
When forecasting weather we look at soundings to determine precipitation type and whether precipitation will actually fall. The green line below represents the dew point and the red line represents the temperature. This is over Bowling Green early Friday morning. You want the red and green line to be touching up to about the 500mb level. As you can see below, there is a gap around the 850mb level. This is where dry air is expected and will eat away at precipitation and limit our rain/snow totals.
Amounts of both rain and snow should remain under .10 of an inch through Friday. The rain and snow should begin to move out by Friday morning. Dry conditions are expected to return tomorrow and continue into the weekend. Our next system to watch comes Sunday night with another chances for a mix of rain and snow. We will keep an eye on that!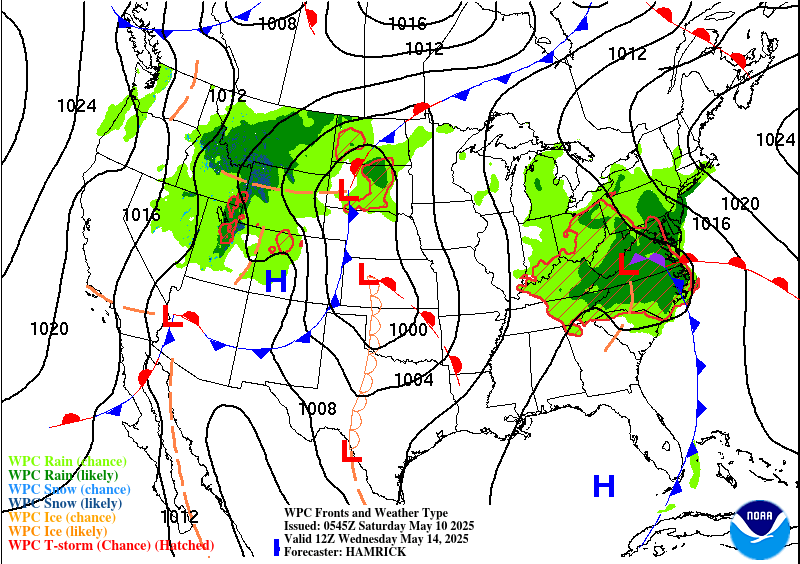 That's the end of today's post! Thank you so much for reading! For more, follow us on other social media platforms at @wxornotBG!