Real Time Radar:
---
Yesterday's Weather
Yesterday was a fairly gloomy day, especially given it was Valentine's Day. The high temperature was 47°, recorded at 3 PM yesterday afternoon. Our precipitation totaled up to 0.36 inches in Bowling Green. The low temperature was 31° set at 12:51 AM yesterday morning. Temperatures are currently in the upper 30s across south-central Kentucky.
---
Forecast Summary
Today: Cloudy skies early; mostly sunny in the afternoon. Wind will be out of the north and northwest around 5 to 10 mph. Highs will be around 46°. Overnight skies will be mostly clear with a low around 28°.
Waking Up: 🌥 38°
Lunch Time: 🌤 44°
School's Out: 🌤 46°
Evening: 🌤 39°
Thursday: Mostly sunny with wind out of the southwest around 5 to 10 mph. Highs will be around 55°. Mostly clear overnight with lows around 37°.
Waking Up: 🌤 30°
Lunch Time: 🌤 49°
School's Out: 🌤 55°
Evening: 🌤 47°
Friday: Mostly sunny skies with wind out of the southwest around 5 to 10 mph. Highs will be around 65°. Clouds increase from the south overnight with a low around 41°.
Waking Up: 🌤 40°
Lunch Time: 🌤 59°
School's Out: 🌤 65°
Evening: 🌤 56°
---
Forecast Discussion
Another fairly boring forecast period is shaping up. Also, it would appear that our resistance to sustained cold will continue as temperatures climb through the end of the work week. #WhatWinter?
Today's weather will be driven by strong northwest flow. This will keep temperatures below normal despite mostly sunny skies during the afternoon hours. Hi-Res modeling believes we'll top out in the mid 40s across the region today. Average for this time of year is around 50°. Clear skies tonight should allow for lows to drop into the upper 20s.
Thursday we'll still be under the influence of northwest flow aloft. However, mid to low-level ridging will move into the region. This will lead to much warmer conditions, as highs reach the mid 50s under mostly sunny skies. Surface winds will also shift out of the southwest, helping to warm temperatures. Mostly clear skies overnight will lead to lows in the mid 30s.
Friday, we'll see ridging in the mid to upper levels of the atmosphere, leading to much warmer conditions once again. Under mostly sunny skies and southwest flow at the surface, highs will likely reach the mid 60s. Clouds may increase overnight as lows drop into the low 40s. Friday's weather looks nice…you know what that means: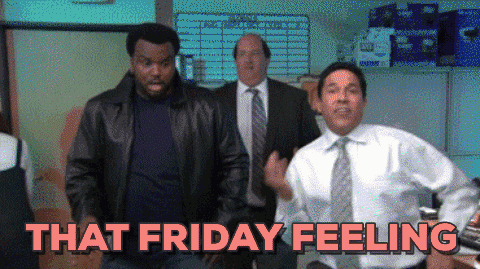 ---
Extended Outlook
As of now, it looks like the warm weather will stick around for all of next week. The next strong frontal system doesn't look to move through until late next week. This will lead to continued warmth. A few showers may be possible on Saturday, with dry conditions after that. Look for temperatures to make a run into the 70s early next week as strong ridging remains in place.
That should wrap up this forecast. Be sure to follow @wxornotBG and @WKUweather for the latest Bowling Green weather information. Check out Landon Hampton on Facebook as well! Have a great Hump Day!