Good Monday Morning my friends! We have an interesting blog post ahead of us with quiet conditions for the first half of the week and a guest appearance of cold weather for the latter half of the week.
Today
We have a very uneventful day across the region today thanks to the high pressure/upper level ridging that made itself at home last week.
Perhaps the most notable thing about today will be the high temperatures. With the sunshine we will see I can see highs getting very close to, if not just over 70 (just slightly above the model output).
Now, some of you might be thinking that temps close to 70 seem a bit odd for November, and you would be correct. While 70 isn't a crazy number, it is about 5-7 degrees above average for this time of year.
Tuesday
Very similar conditions to today will be over the area for Tuesday as well thanks to, you guessed it, high pressure.
Highs for Tuesday will again be in the upper 60s and even up to 70 in isolated areas.
Wednesday
Now, I am going to shock y'all with Wednesday's forecast. Are you ready? More quiet weather with high pressure.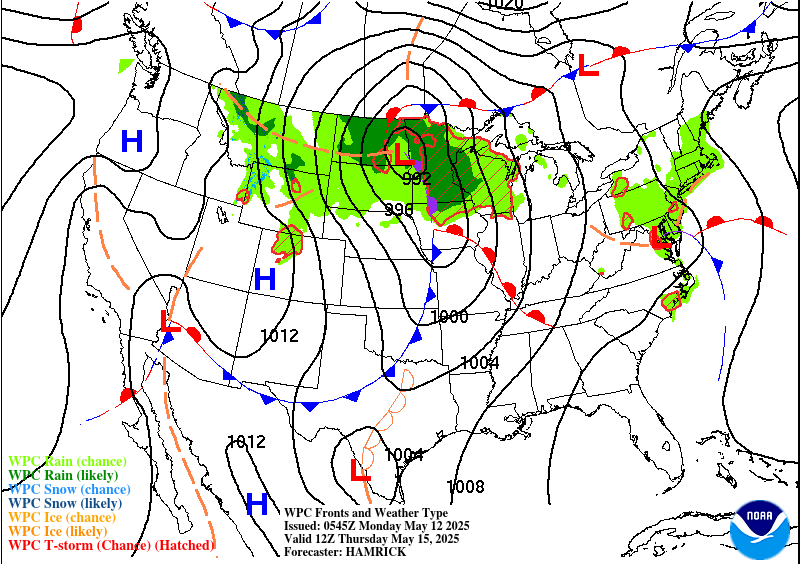 Now, I will say this for Wednesday, the high pressure will still be over us but starting to move off to the southeast which might be enough to invite more clouds but nothing crazy.
Highs across the region on Wednesday look to be in the upper 60s once again, so nothing out of the ordinary for the week.
Thursday
Thursday looks to be the main weather day of the week. A cold front will work its way through the US bringing some solid rain chances and some very cold temps on the backside.
As of right now, I do not see a severe weather threat with this. There is still time for this to change, but it is overall unlikely. Looking at the total rainfall we can expect out of this, right around to under .5″ seems to be the sweet spot we will see.
Perhaps most notable about this system poised to move through is the change in temps it will bring. Highs for Friday and into the weekend will remain in the 40s. Unfortunately, it might be time to bring out the coats.
Highs for Thursday as this passes will remain in the lower 60s.
Friday
Friday will actually remain rather quiet as dry air spills into the area along with the passage of the cold front. Highs will be in the mid 50s.
Saturday will be the first day to really feel the cold air with highs only reaching the mid 40s.
That will be it for this blog post folks! I hope everyone can enjoy the nice weather while it lasts. I encourage y'all to come visit us at our social media sites linked below.
Have a blessed day!