A wash and repeat forecast continues as the rain continues to find WABBLES. Good morning folks and thank you for coming back to the blog! We have quite a bit to talk about as it looks like we have another stormy weekend ahead.
The Setup
We will start with radar this morning to give you an idea of what we will be dealing with most of today. Taking a first glance, it would seem we have a lot of rain headed our way. Actually, a lot of the rain and storms are moving due east which most of this activity is going to stay out of Kentucky today.
Looking at satellite, there is a long moisture conveyor belt setup from the Ohio Valley to northern Texas. This stalled boundary is the focus for all the rain and thunderstorms across the central U.S. and it will become our problem as we head into the weekend. Again, this front is moving very slowly.
The map below shows where we have energy in the atmosphere. I have drawn 2 "low pressures" on this map and it is the one over Kansas that we will have to keep an eye on into the weekend. That area of low pressure will strengthen as it moves east and become a focus for rain and storms near neck of the woods.
Today
Looking ESE from the White Squirrel Weather camera at WKU. We can spot some towering cumulus in the distance. This good news is that we have a weak CAP in place that is holding down storm development this morning. Also, like we talked about above the best forcing with the front is well to our north. So these cumulus clouds are going to struggle to get tall and produce rain.
Temperatures this afternoon are going to get hot again. Highs in the low 90s are certainly possible because we will get some sunshine through the afternoon. Here is a look at today's high temperatures across the region.
Looking ahead future radar through today and tonight. You can see how most of the rain stays out of the area through the day. A few isolated showers or storms cannot be ruled out but those chances for this afternoon are only 30-40%. The best rain chances will not arrive until overnight and into Saturday when the front finally moves in.
Stormy Weekend Ahead
Heading into Saturday the front will finally start to drift south. We will see much better chances for scattered to widespread showers and storms across WABBLES. Saturday will probably not be a washout but there will be storms in the area through most of the day.
Rain chances will be around 60% on Saturday
Rainfall amounts for the next 3 days will be close to 1″ with locally higher amounts possible. This storms will be slow moving and because of the high moisture content these storms will be able to dump heavy rainfall.
Localized flooding and road ponding will be possible but the overall flash flooding threat should remain pretty low.
The severe threat will remain low, but a few storms may have strong downburst with gusts up 50-60mph. Rain chances will continue into Sunday and begin to taper off as we head into Sunday night. Temperatures will be in the mid-80s through the weekend.
Next Week
The front will finally move south as high pressure begins to build back into the region next week. We will need to keep an eye on the boundary in case it tries to lift north again, but next week is looking much drier.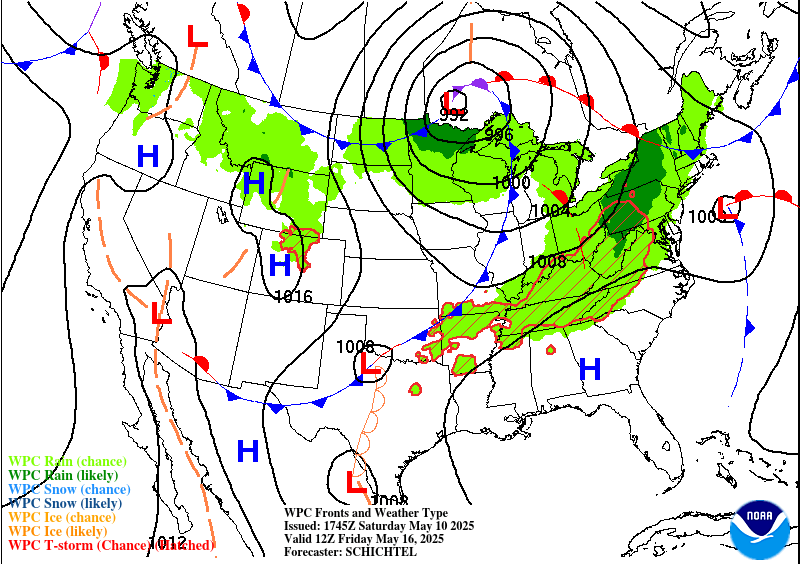 Looking at the CPC outlook, we are expecting to be drier than average by the end of next week. Temperatures will also likely ramp up into late next week and to end the month with highs in the 90s expected!
That will do it for today folks! Thanks for reading and we hope you have great weekend! Remember to follow us on social media for the latest weather information! @wxornotbg