Good Saturday morning WABBLES! We hope you are having a stellar start to this holiday weekend! This blog will be a quick one today as the weather looks very quiet for the next several days! It is about to be red, white, beautiful for 4th of July!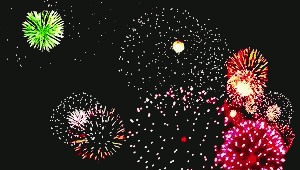 Today
Clouds will continue to be forced to our south today and we will remain mostly sunny! The other great news is that that humidity will be much lower through the weekend. Check out the lack of cloud cover the next few days!
Temperatures this afternoon will top out in the low 80s, it is going to be very comfortable like mentioned above! Enjoy today folks!
Independence Day
The same forecast will role into Independence Day with temperatures topping out in the upper 80s. Now for those shooting off fireworks we will take a look at conditions in regards to that.
Looking at winds for tomorrow afternoon/evening, it is going to be very calm with high pressure directly overhead. If there is any wind it will likely be coming from the west.
The fire danger will be about as low as it can be with calm winds, still very wet grounds, and the humidity will still be above dangerous levels.
Heading into the evening temperatures will relax into the upper 70s just in time for fireworks! Enjoy it folks, you cannot ask for a better holiday weekend!
Next Week
Dry conditions will continue through the first part of the new week. Rain chances likely do not return until the middle of the week. Here is a quick glimpse at how that may look.
That will do it for today! Have an awesome weekend and a great Saturday! Remember to follow us on social media @wxornotbg.