Good Friday morning, WABBLES! After a day of severe weather across the region, we look to get a break in the action today. Fortunately, we avoided the worst of the severe weather with only a few hail and winds reports. We stay dry today but are watching the chance for strong storms to return Saturday.
Today
Right now we are sitting in the mid-low 50s across the region under partly cloudy skies. Clouds are expected to slowly decrease through out the day leading to a relatively nice day.
Here is a look at all the storm reports from yesterday's event.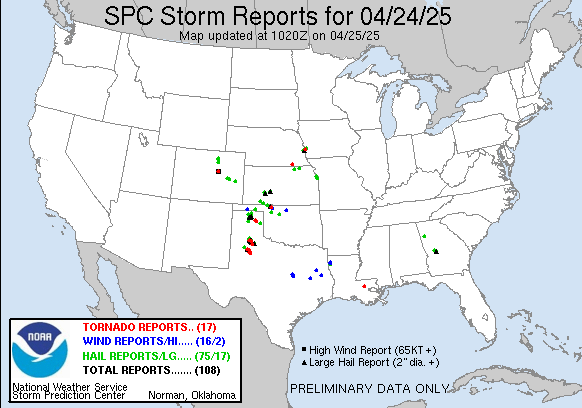 Temperatures today will top out in the mid-60s across the region. We had some gusty winds overnight, but those have since relaxed and are expected to stay calm through today.
Temperatures will drop back down into the mid-40s overnight under mostly clear skies.
Severe Threat Saturday
The Storm Prediction Center has placed us under a slight risk for severe weather on Saturday. Right now all threats will be on the tables including damaging winds, large hail, and possible tornadoes.
Storms will be possible just off to our south starting tomorrow morning, but the severe threat will not come until late Saturday. There are still uncertainties on timing and how strong storms will be, so continue to stay tuned through tomorrow. Temperatures will soar into the 70s Saturday afternoon.
*Slight Risk for severe storms on Saturday*
We have already seen quite a bit of rain over the last week and are expecting the potential for more heavy rain with these storms. A slight risk for flash flooding has also been posted across most of Kentucky
Here is the rainfall forecast through the weekend. Potentially another 1-2in of rain with isolated 3in amounts. We will have to keep an eye on the flash flooding threat along side the severe threat.
1-3in of rain on Saturday and into Sunday
Showers and storms will be moving through early Sunday morning before we begin to dry out during the day. Temperatures end up in the low 60s Sunday afternoon under mostly cloudy skies.
That does it for today's edition of the blog! Remember to stay weather aware into the weekend with the potential for active weather. Have a great Friday everyone!