Good morning, everyone! 2020 has truly dealt an unpredictable hand making predicting future events near impossible. On the contrary to 2020 being unpredictable, however, WABBLES will experience a persistent weather pattern ahead.
What's Up With the Humidity?
Yesterday, the humidity gripped the region making for hot and muggy conditions, as well as some pop-up thundershowers in the afternoon. This time of year around the south can be almost unbearable due to our ole foe known as humidity.
So why does it get so humid and what causes it you may ask? Below is a great blog post by a meteorologist from Minnesota explaining all you need to know.
Today that humidity will stick around indicated by dew point values in the mid 70s. This on top of temperature values hitting 93 will just feel gross. My advice: just stay in and enjoy the AC.
Aside from the air, our sky will be partly cloudy. By the afternoon, we will see some gradual clearing of the clouds. Due to the humidity, the slight chance of pop-up storms remains. As it typically goes, gusty winds and heavy rain will be the main threats with these storms.
Tonight, the low will drop down to 72 degrees under mostly cloudy skies.
Cold Front Moves In Tomorrow
Right now, a cold front is sitting off to the northwest and has its eyes set on the WABBLES region. This front will move in by about tomorrow morning, and paired with the humidity, will bring us increased rain chances that will be a bit more widespread than regular ole pop-ups.
The high will be about 90 degrees and dew point values will only drop a bit causing the mugginess to stick around. The low overnight will dip to a mild 71 degrees.
Cold Front Turns Stationary
It appears that the cold front bringing us rain on Wednesday will turn stationary. This will cause those increased rain chances to stick around for both Thursday and Friday.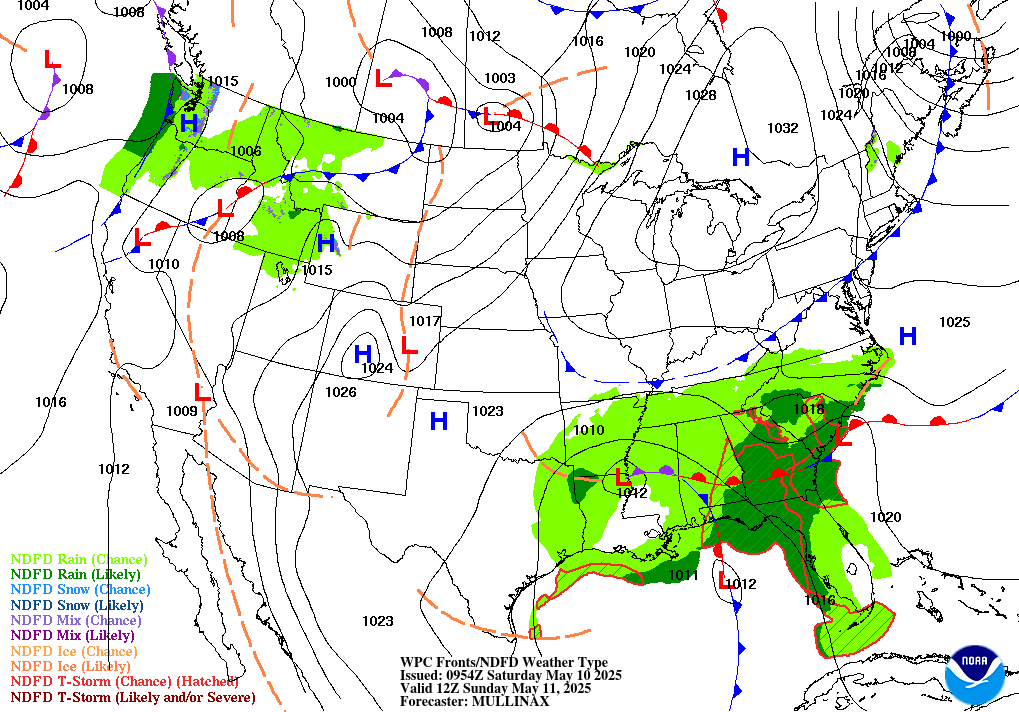 Overall, these systems will bring the area about 1.5 inches of rain by the end of the day on Friday. While it will be a bit soggy at times, this doesn't mean the heat and humidity will vanish! My advice: stay dry and stay cool.
That wraps up today's post! Thanks for stopping by and reading. Be sure to follow our live weather feed on twitter, @wxornotBG, and also on facebook and instagram. Have a good one.