Warm Today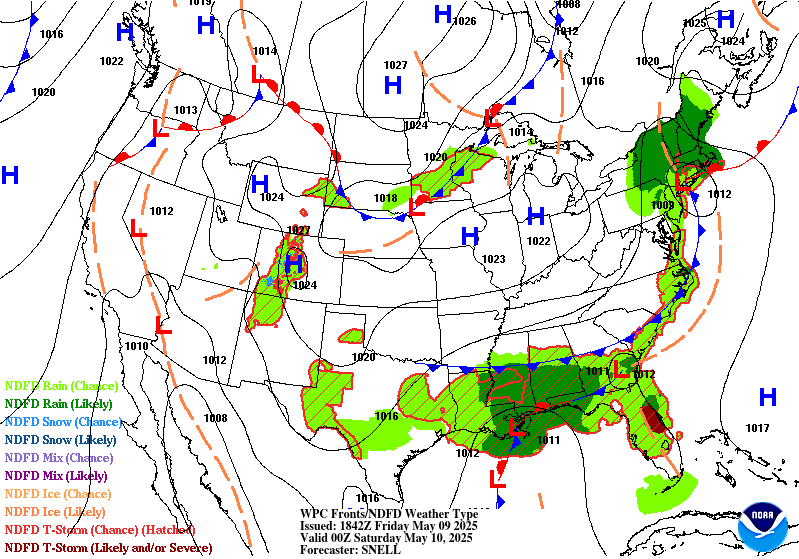 WPC Surface Analysis valid today – Saturday

Warmish weather will remain in play today ahead of another weak cold front. This front will push through today, bringing some rain chances with it. Highs for today will still be in the low 60's under mostly cloudy skies with scattered showers possible.
Hi-res NAM Simulated Reflectivity via COD Meteorology valid today 6am-7pm

Rain chances look to begin around 6am and last through 7pm; however, these showers will likely be scattered, so the day isn't going to be a giant wash or anything. If it were me leaving for work (which I usually do, but I have bronchitis this week– ugh), I would take an umbrella or rain jacket with me. Lows for the evening will hover just above the freezing mark.
Cooler Tomorrow
Once the rain stops, the clouds will start to slowly but surely dissipate, leaving us with sunny skies by Friday morning. Thanks to that cold front, we're in for some cooler temperatures and nicer conditions today. Highs will be in the mid 50's across the area with sunny skies for days! Now that's a fantastic way to end the workweek!
Via Giphy.com
Overnight lows will again sit right above the freezing mark under partly cloudy skies.
Mild Saturday
Saturday is going to be a beautiful day with daytime temperatures in the upper 50's under mostly sunny skies. Lows will be just a few degrees warmer than the previous days with overnight temperatures in the mid 30's, but, again, overall very nice conditions. Not too hot, not too cold for our first Saturday in December.
Via Giphy.com
What's Up Next?
Climate Prediction Center 8-14 Day Temperature Probability Outlook via Pivotal Weather
We'll continue with these mild conditions through the weekend as we gear up for our next big weather maker. It looks as though a cold front will work its way through this region of the country on Tuesday/Wednesday. Cooler air will then flood the region, more than likely giving us very cold temperatures. In fact, the Climate Prediction Center (CPC) has forecasted that we are likely to see temperatures well below normal during the first half of December. I don't know about y'all, but that puts me into the Christmas spirit!
Via Giphy.com
That's it for me! Have a great end to the workweek. Follow @wxornotBG on Twitter and like Landon Hampton on Facebook for the latest weather information. Also, Landon posts daily weather vlogs on Facebook, so be sure to check those out! Have a fantastic day!